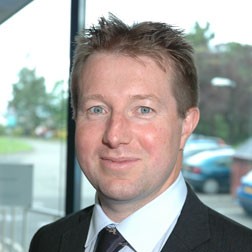 United Kingdom
Chair of Medical Oncology,
Honorary Consultant in Medical Oncology,
Edinburgh Cancer Research Centre,
Western General Hospital.
Charlie Gourley
Address:
Chair of Medical Oncology,
Honorary Consultant in Medical Oncology,
Edinburgh Cancer Research Centre,
Western General Hospital, UK
Research Interests:
Ovarian cancer is the fourth most common cause of female cancer death in the UK.
Until recently it has been treated as a single disease entity.
There is now considerable evidence to demonstrate that ovarian cancers differ in their tissues of origin, their genetic abnormalities, their responsiveness to chemotherapy and the ultimate outcome for patients.
It is our aim to investigate the biology of this disease at the interface between the laboratory and the clinic in order to generate findings that can be directly translated into patient benefit.
We do this by characterising the molecular changes that occur in different ovarian cancers and determining how this affects their responsiveness to chemotherapy or novel biological agents.
In some instances this has led to the description of novel molecular subtypes.
Biography:
Charlie Gourley graduated in Genetics and Medicine from Glasgow University in 1991 and 1994 respectively.
From 1998 to 2005 he trained in Medical Oncology at the Edinburgh Cancer Centre, during which time he obtained a PhD in ovarian cancer genetics and received an NHS Education for Scotland Clinician Scientist Award.
He was appointed Senior Lecturer in Medical Oncology at the University of Edinburgh Cancer Research Centre in 2005, Reader in Medical Oncology in 2011 and Professor of Medical Oncology (Personal Chair) in 2012.
He received a Scottish Senior Clinical Fellowship Award in 2010.
He has been the South East Scotland Cancer Research Network Clinical Lead since 2008.
Professor Gourley's research focuses on trials of novel targeted agents in gynaecological cancer and the use of translational readouts from these studies in order to facilitate individualisation of care.
He has led research demonstrating the propensity for ovarian cancer arising in BRCA1/2 germline mutation carriers to metastasise to liver, lungs and spleen and has used gene expression data to identify subgroups of high grade serous ovarian cancer that have significantly different prognosis and which are characterised by angiogenic and immune processes.
Current priorities of his laboratory group include:
Further investigation of drug resistance characteristics of BRCA1/2 and HNPCC-deficient ovarian cancer; validation of the existence of a pro-angiogenic subgroup of ovarian cancer using clinical material from a randomised trial of antiangiogenic therapy in ovarian cancer; analysis of pathways which characterise ovarian cancer subgroups in order to inform future trials of personalised therapy.
Clinical trials priorities include: leading an international randomised phase III trial of a MEK inhibitor in relapsed or persistent low grade serous ovarian cancer; leading further PARP inhibitor studies within genetically defined patient populations; further investigating and utilising the optimal intraperitoneal drug regime in an effort to maximise patient survival (and cure).
Professor Gourley's research currently receives funding from the European Union (FP7), Cancer Research UK, the Scottish Chief Scientist's Office, the Scottish Funding Council, Ovarian Cancer Action, the Charon Fund, the Nicola Murray Foundation and the Emer Casey Foundation.